Various - Blunt The CD (Volume 1)
For those of us who don't know, Blunt is an urban youth culture magazine, released 10 times a year. For the last 8 years it has positioned itself as a representative of contemporary South African youth culture and covers the sport, music and lifestyle that pervades this space. To celebrate the success of the magazine, Blunt have joined forces with †Alter Ego to bring you a compilation of the best of the best international and local bands on one CD that epitomize the magazine as well as give you over an hour of awesome music by bands local and international that have been featured in the magazine on a regular basis.
That's the official blurb, but the question remains: Is it any good? The short answer is yes.
Blunt's target market is 16 to 34 years of age with main interests in skateboarding, punk, surfing and other extreme sports. So it's not surprising that this is by and large a punk compilation. All the great modern punk bands are here: The Offspring, AFI, NOFX, Pennywise and Bad Religion to name a few. But without a doubt our homegrown talent are the stars of this CD. From well known local bands like Fokofpolisiekar, 16Stitch, Wickhead and The Narrow to undergrounders Hog Hoggidy Hog, Fuzigish and ATFN our bands prove that they can kick any of their international counterpart arses.
If you own every punk CD ever released, there's probably not much on here that you haven't heard before. Go out and buy it anyway. For the rest of you: What are you still waiting for?
†Alter Ego released another compilation earlier this year. Like Blunt, Orgazmatracks 4 also feature local and international bands, but this time of the hardcore/metal variety.
CD Cover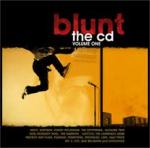 Tracks
Jennifer Lost The War
Angs Aanval
Not For Me
Start
Private Eye
Great Heart
The Days Of The Phoenix
Crash Through
Irrationality Of Rationality
Fall Out
Alert The Audience
The Art Of Self Destruction
Turn Coat
Roll Another One John
Stand By Me
Make Up Your Mind
Analog
Amnesia
Empty Causes
Selling Out
The Springbok Nude Girls 1994-2001