16Stitch
16Stitch is a band comprising 5 members, a massive attention to musical detail, passion, courage, and a contagious energy. They've just released their debut album Beautiful Angelic Parasite and have stepped very comfortably into the roles the South African music industry had created for them. Their previous single Things They Say has shot-putted them to the front of the pit and crowned them one of the most sought after, and successfully optimistic bands to come out of SA in the past 2 years.
The turning point in the very short history of 16Stitch was their performance at last year's Woodstock Festival, organized ironically by the management company who now represent them on a full time basis. Their 'take no prisoners' approach to the stage and their obvious merit as a band that should be taken seriously, found their show being touted as one of the best performances of Woodstock 5 (2003). Being able to pull a crowd and have them remember you, when you are still a fledgling band, is testament to the fact that there is more than just an average happening here. There is talent and originality, in all equal parts.
Shortly after the riff changing experience of Woodstock, 16Stitch had miraculously turned themselves into more than just a garage band, more than just a festival band. People were talking, queuing up at the gigs, and enjoying. They started touring with other SA stalwarts like Tweak, Cutting Jade, Wickhead and more. From playing major festivals the likes of Splashy Fen, Southern Cross Festival, the 5FM Easter Rock Festival and more, 16Stitch started enjoying a massive press frenzy. As they were lining up for interviews on 5FM, Go TV, M-Net and ETV, their first single Things They Say was gaining mammoth exposure on 5FM and steadily climbing up the commercially coveted Top 40 and Hi Five at Five. A video was shot and is currently enjoying major flightings on all channels; including massive exposure on the hot DTSV channel GO TV.
Although 16Stitch have been described as more of an underground band, they certainly don't shy away from the fact that if their songs are good, they get the attention they deserve. As guitarist Paul Norwood comments on their single Things They Say gaining such huge exposure in all formats, whether over or under the ground. "It was incredible to watch a song which we had written rise so high (on the charts) within such a commercial medium. A good song is a good song, no matter what genre of music it falls under. We don't write songs for radio, we write songs for ourselves, and we write songs we love, and if other people like our music, fantastic. It's about the passion, after all".
In January 2004 16Stitch signed a management deal with Authentic Sounds, who subsequently helped with the independent release of their debut album. Beautiful Angelic Parasite was recorded in one month. A huge feat considering the band had no recorded material whatsoever, except for their chart breaking first single. After scrutinizing the recording studios on offer to them and producers willing to record the album, they decided the best way to get what they wanted from it, was to record it themselves. One month later Beautiful Angelic Parasite was delivered.
Discography

Beautiful Angelic Parasite · 2004
Links
Images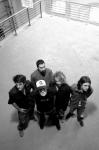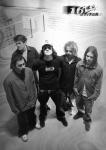 2 of 3 images More »
The Springbok Nude Girls 1994-2001