Fokofpolisiekar
Fokofpolisiekar was formed during April 2003 by a group of friends from Cape Town with communal passion for art and music. After years of discussing the possibility of an Afrikaans band and being frustrated with the state of the local music scene in South Africa, these five friends decided to produce a EP in their own way. It would carry strong symbolism of the Fokofpolisiekar lifestyle and their perspective on everyday life. An insight on the band's personal lives and a style of music they and their generation can relate to.
One year later the group's name Fokofpolisiekar is still unchangeable. Their success and popularity among both fans and the media shows that they have more substance than just an outrageous name. Their music brings high quality hard melodic rock with a punch of punk in the face of institutions of power.
Lugsteuring is the group's first full 12 track album, following on the success of their debut EP, As jy met vuur speel sal jy brand. Hemel op die platteland on the EP, was the first Afrikaans song to be officially play-listed on 5fm. Lugsteuring moves to be more of a full-blooded Rock album with a much bigger sound. The music ranges from the melodic (Tevrede) and the acoustic (Tiny Town) to the powerful hard rock sounds (Bid vir my, Lugsteuring). Angs Aanval is a blistering tour de force seducing the mind into thinking that Jimmy Page, John Bonham and John Paul Jones themselves were involved in the studio.
Lugsteuring was produced by the legendary Jean-Paul de Stefani in collaboration with Fokofpolisiekar at B-Sharp studios.
Discography

Brand Suid-Afrika (EP) · 2006
Monoloog In Stereo (EP) · 2005
Lugsteuring · 2004
As Jy Met Vuur Speel Sal Jy Brand (EP) · 2003
Links
Images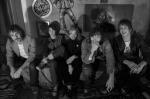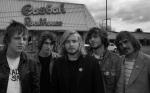 2 of 2 images More »
The Springbok Nude Girls 1994-2001