Wickhead
It's no longer just a pastime - a hobby to pass the hours. In South Africa today, music has become what it essentially should always have been – dedicated, happening, something to live for. They call themselves Wickhead.
An ambiguous title in itself, Wickhead have shown they have far more than just one set of true colours. Having been together for 4 years, Wickhead are eventually getting the attention they deserve. Their debut album If It Hurts It's Healing has just been released independently through Authentic Music, their management company.
It's a long arduous task trying to gain the respect and adoration of a South African public, but Wickhead have shown they've got the determination to withstand it all, to work hard at it and to prove who they are. Their talent and drive has seen them play top festivals the likes of Splashy Fen, Woodstock, V-Town, Oppikoppi and been chosen as one of the winners of the SL Unearthed competition.
Before the release of their full-length debut, Wickhead contributed ironically enough to the success of another South African story. Their song Phat – a song in their opinion which was not good enough for their album, made it as the theme song for the Crazy Monkey skits you can see all over MTV, all over the world.
Their full-length album If It Hurts It's Healing features the first single, Anthem – a song that gained massive exposure on national radio station 5FM. A song that is testament to who the band are, what they feel, how they act. It's the up's and down's that make the man, and the suffering, after all, which teaches us the strength. As straightforward as it may seem, this is Wickhead's Anthem, a monumental achievement of a song, and a song that has catapulted them straight into the big time.
Mixing a nu breed assault of guitar, melody, lyrics that matter and a thrashing stage appeal, Wickhead's debut album pushes you straight into the middle of the tracks and forces you to grab on. Having been rated as one of South Africa's newest breakthrough rock bands, Wickhead will thrill you on stage and shatter the sound of the outside world.
Discography

If It Hurts, It's Healing · 2004
Links
Images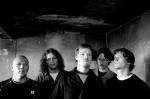 1 of 1 images More »
The Springbok Nude Girls 1994-2001