Jo Day - Icon
Listening to icon I realize how far the SA music scene has come over the last few years. And I'm not talking about Pop Idol's. In a perfect world artists like Jo Day would be ruling the airwaves. And although icon is a brutally heavy rock record for the most part, there's something in there for everyone.
Pulling no punches it kicks off with Breaking Point, one of the heavier tracks on the disc. The song is a disturbing look at the entertainment industry through the eyes of an obsessed fan. In fact, the affects of the industry on stars and fans alike seem to be a recurring theme on icon. The second track I Believe is my favorite on the album and worth the price of admission alone. Remember is a catchy, radio friendly tune that still packs a punch, but a bit of a breather before the title track Icon tear down the walls again with a vicious guitar riff. It's worth noting that the album was produced by Jon Buckley (Seether, Toxic Shame) who also nailed down most of the guitar and bass tracks. Production is excellent throughout, although I could do without the distortion of Jo's voice on The Truth, a pseudo-rap/nu-metal tune with the coolest guitar riff on the album. All The Way There is a beautiful ballad (the only one on the album) and really shows off Jo's songwriting talents.
All I can say about the second half of icon is that it's heavy! Seed recently reached no.3 on 5fm's Modern Rock Chart and reminds me of Drain sth at their loudest. And I can just imagine what scorching tracks like Real, Confession and Seen 'Em All sound like live.
The verdict? This is the best (and loudest) South African album this year... or any year. Period.
CD Cover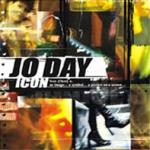 Tracks
Breaking Point
Remember
Icon
The Truth
All The Way There
Down & Dirty
Seed
Real
Confession
Do You Want Me?
Seen 'em All
Out There
Phone Booth
The Springbok Nude Girls 1994-2001