Wickhead - If It Hurts, It's Healing
Wickhead has had a long road leading up the the release of this, their debut album. Four years to be precise. As one of the so-called new breed of SA rock bands that includes 16Stitch, Pestroy, The Narrow and others, they have much to prove with this album. Surprisingly If It Hurts, It's Healing steers clear of nu-metal cliches and presents a more positive outlook than many of it's counterparts. Who needs another pissed off rock band anyway.
Make Your Mind Up kicks off the album in explosive nu-metal style, followed by Anthem, the band's breakthrough first single. It's on more melodic tracks like Anthem and Until where Wickhead sound their most promising. Blacklisted is planted firmly in nu-metal territory, with rap bits exploding into raging vocals and raw guitars. Thankfully it never descends into a noisy mess. Free slows down the pace a notch before the double bass rhythm of Plug hits you square in the chest with a 15 pound hammer. Plug makes it's return near the end of the album with Unplug, the acoustic version. In fact, the band can mellow out just as well on tracks like Right By Your Side and Anthem (Acoustic) as rip you a new one with Getup, Your Highness and What's The Payback. There's enough variety here to keep it interesting until the very last minute.
If It Hurts, It's Healing is a surprisingly good album by a talented bunch of musicians. Fans of Linkin Park and P.O.D. should enjoy this, although to pigeonhole Wickhead as nu-metal is unfair. I'm very much looking forward to their next album.
CD Cover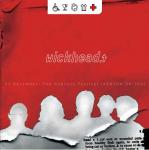 Tracks
Make Your Mind Up
Anthem
Blacklisted
Free
Plug
Friends
Reason I
Right By My Side
Until
Getup
Your Highness
What's The Payback?
Unplug
Anthem (Acoustic)
The Springbok Nude Girls 1994-2001