Jo Day - No Warning
No Warning is the follow up to last year's Icon, and as always Jo Day and her band refuses to play by the rules. From letting fans name the album, to being an outspoken member of the SAMQC, Jo Day is back with a vengeance. In fact, as I'm writing this they've already released their third album, The Truth, at this year's Woodstock 5 festival.
But let's get back to No Warning. The opening track and first single, Above My Room, is by far the coolest track on the album. It reminded me of when I heard I Believe for the first time, and being totally blown away by how good this band is. As one of the busiest live acts in the country, Jo and her band have evolved into a rock and roll force, honing their skills on the stage. Production is excellent and once again handled by Jon Buckley (Seether, Toxic Shame) who also co-wrote the album. The mastery of the Day/Buckley writing team shines through from the title track No Warning, a tribute to murdered guitarist Derrick van Niekerk of the band 4 Minute Warning, to the ballads Runnin' and Never Die, to the balls-to-the-wall riffs of Porn and Reel God. This album will eat you alive and spit you out wanting more. And fans will get more with the release of Jo Day's second album this year, a collection of re-recorded singles, rarities and new tracks titled The Truth.
Marq Vas calls it a '12 track rock lumber punch'. I call it the future of South African rock. If Jo Day isn't the next band to join Seether on the ladder to international fame, there is no justice in the world.
CD Cover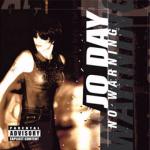 Tracks
Above My Room
Prey
Runnin'
Reel God
Porn
Moment
Closer
No Warning
(Back Of) Your Car
Excuses
Too Far
Never Die
The Springbok Nude Girls 1994-2001