16Stitch - Beautiful Angelic Parasite
I've been feverishly waiting to review this album. Beautiful Angelic Parasite is the debut album by 16Stitch, one of the forerunners of hardcore music in SA. Amazingly, the album was recorded and produced by the band in the space of one month, with the help of Jon Buckley (Jo Day, Seether) and Wickhead vocalist Bronic. In this short space of time 16Stitch created something that is dark yet beautiful, heavy yet melodic.
Anyone kicks off the album with a brutal guitar assault. This second single from the album is vintage 16Stitch material. The band has been compared to Chevelle, Blindside and Sevendust and it's clear to see why. The heavy, philosophical Suffer doesn't let up the pace. In fact, there are very few calm moments on Beautiful Angelic Parasite. Sure, Yas Yeht Sgniht and Red Bamboo slows down a notch, but these are just calm before the storm. Other track highlights include Fallout, from where the album title was lifted, Polynesia and the band's first breakthrough single, Things They Say. Andrew Maskell's vocals fit the style of music perfectly. The production is slick, and the band does a decent job translating their live energy from the stage to the album, something that's not easy to do.
A special mention should also go to the packaging and artwork, which raise the bar for local artists. Apart from the beautiful artwork, the CD booklet contains the song lyrics while the disc itself has a multimedia track with the band's videos.
It's clear to see why 16Stitch is one of the hottest bands in the country at the moment. Their legions of fans should already own this album, and followers of SA rock should grab it immediately. Two thumbs up.
CD Cover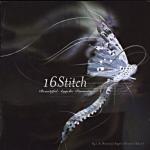 Tracks
Anyone
Suffer
Aora
Fermentation Device
Yas Yeht Sgniht
Things They Say
Polynesia
Bovril
Fallout
Red Bamboo
Inflect
All This Way
Closing
The Springbok Nude Girls 1994-2001