The Narrow - Travellers
Travellers is the second album by South Africa's most talked about band right now. The Narrow's debut album Self Conscious spawned no less than 4 chart topping singles, was nominated for a SAMA and voted best album of 2003 by Barney Simon. Needless to say expectations were pretty high for this album. I'm happy to say that Travellers takes those expectations and shatters them.
The roller-coaster ride kicks off with You Don't Have To, and Hanu (ex Not My Dog vocalist for those who've been living in a cave the last couple of years) shifts effortlessly from Deftones- into Radiohead-mode and back. You'd be forgiven to think that it couldn't possibly get heavier than this. Big Mistake. Travellers, the title track and first single, manage to do just that. The first breather comes in the form of Run With It, a song with a strong drum & bass groove. Oddly enough, it works. One of the outstanding qualities of Travellers is it's musical variety. Although heavy for the most part, they manage to throw in a few surprises here and there (I'd Like To, My Ride and Slide). The effect is an album that holds your attention to the very last minute. And of course there's the Snow cover Lonely Lonely, a crowd favourite.
The album also features a guest appearance by N8tive lead singer Dave Owens (ex Lithium). This Is The Way is one of the heaviest tracks on the album, and just short enough to grab you, swallow you whole and spit you out before you know what hit you. Six Million Dollar Man is a catchy song and nod to the 80's TV series with the same name. The album ends on a mellow note with the instrumental Slide and a groovy remix of Lonely Lonely.
Overall, Travellers is heavier than Self Conscious, with excellent production that retains just enough of a rough edge. Fans of The Narrow should already own this album, but Travellers will appeal to fans of Queens of the Stone Age, Radiohead and Rage Against The Machine alike.
Verdict? A strong contender for album of the year.
CD Cover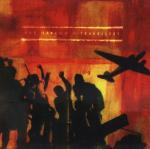 Tracks
You Don't Have To
Travellers
Red
Run With It
In The Light
Free-Will River
I'd Like To
Lonely-Lonely
You Live
My Ride
This Is The Way
Six Million Dollar Man
Slide
Lonely-Lonely (Babylon Moon Remix)
The Springbok Nude Girls 1994-2001