Hog Hoggidy Hog - Oink!
If there were any doubt that the Hogs are the godfathers of South African punk, Oink! dispels it once and for all. Hog Hoggidy Hog have been around for 8 years, almost single-handedly keeping the Cape Town punk scene alive during that time. This is their third full length album, and the band's experience shines through on every track.
Produced by Theo Crous (Springbok Nude Girls, Kobus!) Oink! contains 13 short, fast energetic tracks in typical ska-punk fashion. The production is excellent and the album has a unique South African feel to it. It's nice to see these guys not simply sticking to tired old formulas, something a lot of recent punk bands should take note of. Take the track Great Heart for example. The Hogs take this truly African classic by Johnny Clegg and make it totally their own, resulting in one of the best tracks on the album. Other stand out tracks include Aunty Trish, African Son and Flag of Freedom.
Another aspect of Oink! that stands out is it's variety. While mostly in the realm of punk and ska, they successfully manage to bring in some jazz and reggae elements as well. Musically the brass section is excellent (never thought I'd say that again after the Nudies), the riffs are fast and the songs catchy. This is a great party album.
Lately I've been getting tired of punk in general, but the Hogs have managed to revive my interest. Grab this if you're a fan of NOFX and punk in general, or just want to hear something uniquely South African.
CD Cover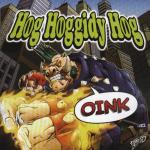 Tracks
White Christmas Intro
Cold Fusion
The Incident
Willy White
Great Heart
No One Heard
Aunty Trish
African Son
Naked
Flag of Freedom
The Great Escape
Loop Street Generation
So Long
The Springbok Nude Girls 1994-2001