Seether - Karma and Effect
What can I say? I've been waiting for this CD for two and a half years and it's finally here. For their fans back home, this is Seether's first album with all new material in 5 years. We all know the success story by now, and frankly I was somewhat disappointed with their first major label release in the US. Understandably, US audiences haven't heard the material on Fragile before so re-recording it made sense. But then the band had a major hit single with Broken (featuring Amy Lee from Evanescence) and were forced by their label to put off recording new material while they hit the road again to promote Disclaimer's re-release (ironically enough called Disclaimer II). This frustrated the band and fans alike, but the long wait is finally over.
Karma and Effect contains all the classic Seether ingredients: face-melting guitars, strong vocals, great melodies and a good dose of anger and frustration to boot. The only difference between Seether and every other band is that Shaun Morgan sounds like he actually means it. Yes, they sound like Nirvana. Who cares? There isn't a single disappointing track on Karma and Effect, and you don't get to say that very often these days. To call the production big is an understatement. Even the more ballady songs sound huge. That being said, the closest to a ballad the band strays on Karma and Effect is the last track, Plastic Man, and Tongue, my favorite track on the album. Other highlights include the epic Simplest Mistake, the scorchingly heavy Because of Me, the first single Remedy (great video) and Gift. Lyrically Seether hasn't cheered up much since Fragile (or Disclaimer for that matter). As usual they manage to capture their aggression effortlessly without sounding like posers.
With Karma and Effect Seether confirms once again why they were South Africa's first major rock export. If you buy one rock album this year, make sure it's this one. And please guys, don't make us wait another 5 years before you do this again...
P.S. Fans back home, listen out for the bonus track
CD Cover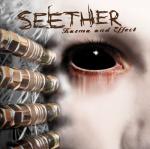 Tracks
Because of Me
Remedy
Truth
Gift
Burrito
Given
Never Leave
World Falls Away
Tongue
I'm The One
Simplest Mistake
Diseased
Plastic Man
The Springbok Nude Girls 1994-2001