The Narrow/Pestroy - Split
This is a novel idea, and something perhaps more local bands should consider. Think about it - two bands share the high costs involved in making a CD, and fans get to hear new material without having to wait years for a new release. Both The Narrow and Pestroy released successful albums in 2004 (Travellers and Counter Attack respectively) and also happen to be two of the hottest bands in the country right now. Split is the natural progression of touring together in 2004 and wanting to unleash new material on unsuspecting fans.
The Narrow is no stranger to cover versions, and once again does it effortlessly with Living Daylights, a cover of the James Bond tune that manage to stay true to the original. The following tracks are trademark The Narrow, with Hanu shifting effortlessly between singing and screaming. The last track on The Narrow EP is You Live from Travellers, remixed by Tripwire of Pestroy. It's interesting to hear the two bands collaborating, instead of just doing their own thing.
The Pestroy EP contains only remixes, except for the raw and unplugged version of Categories. Highlights include the Hubmodule remix of Re-lie in Truth and Killswitch, remixed by Theo Crous of Kobus! and Springbok Nude Girls fame. Both EP's include data tracks – the video for The Narrow's hit single Lonely Lonely and behind the scenes footage of Pestroy.
Split is a well produced offering that fills the gap nicely while we wait for their next full length albums. This could easily have been a cash-in on their previous successes, but I'm happy to say it isn't so.
CD Cover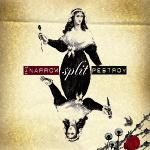 Tracks
Living Daylights
Crash Through
We Dream
Bring Down The Curtain
You Live (tripwire remix)
2 Min. H8 (another club hit)
That Song (tripwire remix)
Re-lie In Truth (hubmodule remix)
Killswitch (theo crous remix)
Categories (raw and unplugged)
The Springbok Nude Girls 1994-2001