Fokofpolisiekar - Monoloog In Stereo (EP)
Fokofpolisiekar are well known for their frantic live performances (among other things) so it goes almost against the laws of nature when they mellow out like on Monoloog In Stereo. Despite early rumours that this would be an acoustic EP, it's not. Yes, they slowed down the pace a notch and yes, the songs are more radio friendly (whatever that means these days) but the lyrics are still raising serious questions, begging for repeated listens.
Despite the slower pace, you almost get the feeling the band has to physically restrain themselves from letting it rip. The last track Die Seksuele Revolusie is a good example. Reports from their recent unplugged gigs indicate the same thing, with Francois unable to sit still by the end of the show. If Monoloog In Stereo is the build-up to their next full length album, it's time to start padding the room.
It's hard to single out highlights on an EP, but after repeated listens the opening track Oop Vir Misinterpretaise, Wintersdag By Die Seer and the aforementioned Die Seksuele Revolusie stand out as favourites. Like with their previous releases, understanding Afrikaans is a bonus but by no means required to appreciate Fokofpolisiekar. Their musicianship remain top notch and they're still one of the best rock bands in the country, period.
Monoloog In Stereo offers something to hardcore and potential fans alike. Judging by the excellent unplugged version of Hemel op die Platteland on the Levi's compilation, they could easily have recorded old material unplugged and still satisfied their fans. That they didn't just proves my point.
CD Cover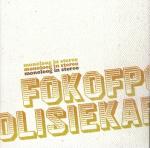 Tracks
Oop vir misinterpretasie
Ek dink aan jou (as dit reen)
Die illusie van veiligheid
Wintersdag by die seer
Monoloog in stereo
Die seksuele revolusie
The Springbok Nude Girls 1994-2001