Fokofpolisiekar - Lugsteuring
Let's face it, it was never going to be easy for Fokof to follow up their brilliant debut EP As Jy Met Vuur Speel Sal Jy Brand, which reached cult status and made Fokofpolisiekar a household name in the Afrikaans underground. Kudos should also go to the band for not simply re-releasing a "remastered version" of the EP with a couple of new tracks and calling it an album.
The fact is, Lugsteuring pretty much picks up where the EP left off. The ferocious guitar assaults, catchy hooks and gritty vocals are still there, but at the same time the band have progressed, tightened up their act. They've matured without losing their edge. It's impossible to pigeonhole Lugsteuring into a specific genre, being a healthy mix of punk, rock & grunge. The songs are intense. To quote another reviewer, "they start, they kick ass, they hurtle words at you, they end". And let's face it, words are ultimately what Fokof is about. Hunter and Francois' lyrics are still angst-ridden, but to simply call it [name your cliché here] is a mistake. It's more of a wake up call to the MTV generation, with their short attention spans and sheeplike acceptance of all things. Wake up and smell the coffee.
The album kicks off with an enormous blow of energetic guitars on Bid Vir My. Sielswartgat continues this guitar assault, which is ever present throughout the album. Overall, the production on the album is excellent. Recorded at Jean Paul de Stefani's legendary B# Studios, it stands up to anything their international counterparts can throw at them. It's hard to single out tracks when they're all this good, but included are the title track Lugsteuring, with it's fast guitars and trademark Fokofpolisiekar lyrics ("ons oë is vervang met skerms/en ons siele met prentjies van die see"); Die Grootste Gaping, a live shout along favorite ("ons is leeg/ons wil wees"); Leegle Drome Droom's cool outtro and Tevrede, best described as a love song that rocks at the same time ("hierdie kan nog lank vat/hierdie kan nog seermaak"). The album ends with a contrast, the aggressive Angs Aanval vs Tiny Town, acoustic poetry that proves Fokof can mellow out just as well as they can rip you a new one.
Lugsteuring is one of the best albums of 2004, and proves once again that South African rock is up there with the best in the world. Fuck it, this is better than most of the fomulaic nonsense we have to endure these days. Two big thumbs up (and one middle finger)
CD Cover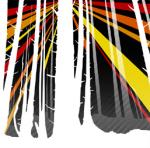 Tracks
Bir vir my
Sielswartgat
Sporadies Nomadies
Lugsteuring
Tonnelvisie
Ontken altyd alles
Die grootste gaping
My lys verskonings
Leeg le drome droom
Tevrede?
Aangs Aanval
Tiny Town
The Springbok Nude Girls 1994-2001