Wonderboom - Hoekom?
Since their inception in 1997, Wonderboom has been one of SA's most loved bands. Their stage energy (with or without pants) have solidly entrenched them in the SA rock hall of fame. Having recently won the SA leg of Global Battle of the Bands; sharing the stage with bands like Live and The Mission; headlining every major festival in the country - what could they possibly have left to prove? Nothing, but that didn't stop them from recording their 5th album in Afrikaans.
Because they are the consummate South African band, and not afraid to be who they are.
Hoekom? is essentially the big Afrikaans sister to 2002's Rewind, Wonderboom's breakthrough album of cover versions. Here they pay tribute to some of today's most influential Afrikaans singer songwriters by covering 5 classic tracks - including Royal Hotel (David Kramer), Eyeshadow (Valiant Swart), Engel (Karin Zoid), Johnny Is Nie Dood Nie (Koos Kombuis) and Harlekyn (Anton Goosen & Sonja Herholdt) - each with a Wonderboom twist.
Like with Fokofpolisiekar, you don't have to be Afrikaans to appreciate Hoekom? It's a CD that'll leave older fans feeling nostalgic, and bring some culture to younger ones. Oh, and it rocks.
CD Cover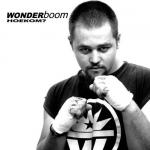 Tracks
Royal Hotel
Eyeshadow
Engel
Johnny Is Nie Dood Nie
XIXIXI
Harlekyn
The Springbok Nude Girls 1994-2001