Fokofpolisiekar - Brand Suid-Afrika (EP)
Recent controversial buffoonery aside, Fokofpolisiekar proves they can still crank out a decent rock tune effortlessly on their new EP Brand Suid-Afrika. Although somewhat on the short side (only 4 tracks, 3 original and the previously released acoustic version of Hemel op die platteland) the sheer brilliance of the new tracks make it worth the price of admission.
The band unleashed Brand Suid-Afrika during their sets at the Coca-Cola Massive Mix concerts. I've been waiting for this material since the release of Lugsteuring, their sophomore effort that didn't quite capture the raw intensity of the band like As jy met vuur speel sal jy brand. This is probably their best work to date and will become a Fokofpolisiekar classic.
Tieneraksie Einde and Klipgooi Glashuis are essentially b-sides, and although slightly less polished than the single Brand Suid-Afrika, they are still as good as anything the band has done previously. It's certainly apparent why they weren't included on Monoloog... it's just too damn heavy. Have I mentioned this EP seriously rocks?
Hemel op die platteland makes you wonder why the band didn't go completely unplugged on Monoloog in Stereo. It was and always will be a brilliant song and this re-interpretation is a worthy addition to the band's repertoire. But let's face it, Fokofpolisiekar were meant to rock and that they do on Brand Suid-Afrika.
Welcome back boys!
CD Cover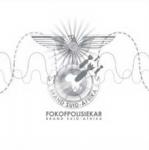 Tracks
Tieneraksie Einde
Brand Suid-Afrika
Klipgooi Glashuis
Hemel op die Platteland
The Springbok Nude Girls 1994-2001