Wonderboom
Wonderboom is a band that needs no introduction. Their crazy colour painted all the stages of South Africa with their funky tattooed muscle flexing energy. They've become a stalwart of SA music. You cannot say Wonderboom without sinful and sordid images of flesh bound men frolicking bare chested in front of millions of screaming fans, wearing the snake that some so commonly misrepresent as evil? They've become as an important a part of South African music as biltong is to a khaki man.
Enter Wonderboom, clothed, in 1997. Merging 2 different bands – The Electric Petals and Eight Legged Groove Machine, it's obvious that each member is tightly ensconced in the world of music. It is blood to them, and it is this energy and daring that makes them go on to become one of the hottest bands SA has ever seen – in all aspects of the word.
Initially touring as The Electric Petal Groove Machine the boys start out as all aspiring bands start out. Touring, gigging, playing, practicing, defining their sound, but unlike other bands – this happens all in the space of one week. Shortly after their joining of minds, TEPGM perform their first show live on the TV show The People Of The South hosted by Dali Thambo. And the rest, they say, is unbelievable. In such a short space of time, the band is asked to open for international 80's band Simple Minds. Shortly after, lead singer Cito replaces the temporary band name when he spots a road sign just outside of the Freestate town Kroonstad called Wonderboom. It's shorter, and it's new – and it is the start of something beautiful. 1997 is to Wonderboom as the world is to humanity. From dust and drums whence we came!
In 1998 Wonderboom release their first official album. A six track self financed EP called Is It? This debut included one of their first hits, and a song that is always heralded by fan attacks and crowd bursts at festivals – the highly contagious Green Fever. Also included on Is It? are the Rocky Horror type tracks Jafta Rebel, She Cries and No Left Stone Unturned. Is It? establishes Wonderboom as a real band – a self-actualized monster of hits - a band that the public eat up like oysters and champagne.
After touring and playing most major festivals and being asked to open for Live on their Distance To Here Tour in SA, Record Company David Gresham sit up and start to sniff the goods. Wonderboom take the plunge and sign a record deal with DGR in 1999 and release Never Ever Ever which boasts the single Something Wrong which reaches all the way up to #2 on the 5FM charts, an amazing feat for a then SA music unfriendly radio medium.
2002 is spent in the studio, taking a break from the constant stress of touring and focusing on their first full length David Gresham release Rewind. However, Wonderboom are ultimately a live band, and they wouldn't miss any opportunity to perform live, to get down and dirty and get their leopard skin knickers off. Wonderboom not only perform with internationally renowned alternative band The Mission – they headline one of the oldest festivals in SA – Opikoppi.
In 2002, after a year of all work and hardly no play, their first official album Rewind is released. A tribute to South African musical heroes – Rewind is touted as one of the most respected albums Wonderboom have released and a step in the right direction for the band as a whole. They are taken very seriously by media moguls, fellow musicians and industry chirps alike.
Rewind takes classic songs the likes of Johhny Calls The Chemist by Falling Mirror, Shadows by E-Void, Africa by Johnny Clegg and Charlie by Rabbit– and reinvent them, infusing them with the vibrant acid sparked wit that is Wonderboom. Rewind yields four top ten hits and Charlie prides itself at reaching a #1 spot on 5FM.
Not only happy with themselves on the success of Rewind, 2002 proves to be one of the busiest, hottest years of Wonderboom's career. In July they tour London and Cardiff – and spend most of their waking hours behind their instruments, beating out their anarchic rhymes and winning more and more fans all the time. This is made evident when Wonderboom walk away with the coveted prize for The Top band in SA at the People Magazine's Crystal Awards Ceremony. Along with this Wonderboom continue to perform at high profile gigs the likes of Idols, 94.7 Highveld Stereo's Joburg Day, and staples like The 5FM Easter Rock Concert, Woodstock and Oppikoppi. It's balls to the wall and six packs to the floor with Wonderboom. No half assed flab allowed!
With 3 hit records under their sleeves, Wonderboom will not rest. Work on their 4th album begins and is released in 2003. Tell Someone Who Cares is a fully grown beast that will not be tamed, featuring hit attack tracks like Dead Right, Soul Doubt and White Lines.
Hoekom? is Wonderboom's fifth record and is the big Afrikaans sister to Rewind. Being the consummate South African band, and not afraid to be who they are – Wonderboom have recorded a 6 track EP – in Afrikaans, paying tribute to the most influential modern Afrikaans singer songwriters around today.
They're the archetypal South African band – a band who won't mind taking their shirt off for you – in fact, they'll go all the way – most of the time, which makes them who they are. A burning flame in the eve.
Discography

Hoekom? · 2004
Tell Someone Who Cares · 2003
Rewind · 2001
Never Ever Ever Ever · 2000
Is It? · 1997
Links
Images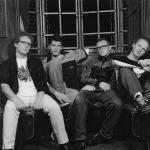 1 of 1 images More »
The Springbok Nude Girls 1994-2001