The Slashdogs
The SlashDogs began with three guys, from three different backgrounds, needing to play music that got back to the roots, and one mouth (minus two teeth). That mouth was Gary, and those three were soon The SlashDogs. With Gary fronting them, they soon hit a number of stages across their home province, with their fourth gig an evening slot on the main stage of a major festival, while L-Train was still learning how to play bass.
They got a great response based on their maniacal, attitude-filled live shows, and as they powered on, gained label interest as far afield as Italy, winding up on a Brutus Records compilation of street rock-n-roll. After 13 gigs though, Gary decided to call it quits, and focus on motocross and family. Unfazed, The SlashDogs played their last show with Gary, the new vocalist already in the crowd that night, having been there since the first gig. Lucky Wretch had a long history in the music scene, in a number of different guises (having toured through Europe) and a wicked set of lungs. Tattooed and always within reach of a switchblade, Lucky Wretch was the perfect addition to the gang.
Once Lucky joined, Rev. Wright kicked up the pace a little, and Lucky settled in fast, prompting the band to just keep the name "The SlashDogs", him included. His first gig blew away all those who were expecting to see Gary's shoes left unfilled, with Two-Teeth even joining him on stage to congratulate him. His second gig, he broke his mic-stand while driving it through the stage, and the gang's been firing on all cylinders ever since. Lucky has not only brought his formidable presence to the stage and the sound, but played a role in the reworking and arranging of the material as things progressed, and is an invaluable member of the group.
Alongside Rev. Wright on guitar, with his soft-shoe stylings on stage and trips to the Lady's bathroom mid-song, still playing; Paul Rocker's frenetic, Slayer-like drumming and front-man bravado, even from behind a kit; and L-Train's low-slung bass and unpredictable on-stage aggression, Lucky is without a doubt a SlashDog, slicked-back hair and all.
Discography

Spilled Blood Calls For Vengeance · 2005
Even Preachers Wear Black · 2004
Links
Images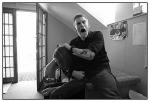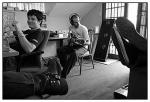 2 of 4 images More »
The Springbok Nude Girls 1994-2001