Perez
Our story begins at a debut gig at Splashy Fen 2001, South Africa's premier music festival, and travels into the not so distant future where 1 year later to the day the band returned to Splashy Fen to headline the festival. Perez and their now familiar anthem of a song 'Wasted Out' raised the roof at the festival and sent tongues wagging as to who this new band was. They had brought a new formula to the stage.
The next time Perez were seen following their debut show at Splashy Fen in 2001, was at the RT Rocking for the youth charity event held at the Showcase on Youth Day. The show was strongly supported by 5FM, South Africa's largest rock and pop radio station, and their first single 'Wasted out' received wide spread airplay during the weeks leading up to the event. Interviews with 5FM DJ's Sami Sabiti, to discuss their single 'Wasted out' (added to Playlist 10/6), and Ian F, to discuss Youth Day followed. They also went along with 5FM late night DJ, Barney Simon, to Cotlands Baby Sanctuary for a tour in support of the charity event.
Shortly afterwards, Perez appeared back in their home town Durban, to perform alongside Dove Award winners Tree 63, at the Mr. Price Pro free concert in front of thousands of supporters and then went on to the Grahamstown festival to perform alongside Crous and Carstens (Springbok Nude Girls) and Semisane. Perez then went on to perform at Oppikoppi on the Saturday evening, the most sought after day and time slot.
After finishing a coastal tour as well as the Western Cape, Perez completed recording a demo with legendary South African producer, David Birch. To top off their busy year they were added to the 5fm Birthday Bash along with Just Jinger and International bands Feeder and Seether
Not bad for a band that was barley a year old.
The hype continues to grow as more and more people get to see and hear the band. Now that radio has caught on to the magic of the Perez they are receiving feverish and idol like reception at their gigs, attracting fans to ask for an autographs and wildly jump on the stage. A tight outfit with a lot of charm, their stage performance is phenomenal.
The band appeals to the masses. Playing classic Indie rock with their own particular take on it, Perez have been compared to the likes of Coldplay, Placebo and The Pixies. Perez has a unique sound influenced by a variety of bands.
The result. Combinations of angst-filled vocals, addictive lyrics, energetic drum rolls and frenzied guitar; add just the right amount of chutzpa. Slow ballads such as 'Dreams and Troubles' and 'Yellow Lie' leave crowds sitting in complete silence followed by roars of appreciation. Other faster, energizing gems such as 'Wasted Out' and 'Smells Likes Music' jolt you awake like a bolt of lightening. 'Smells' finds it roots from a state of mind which causes the sufferer to experience a confusion of senses where he or she will start to smell music and hear color hence embracing the uniqueness of the condition.
The bands much anticipated full length debut album 'Picture Perfect' has just been released through Sovereign Records and is distributed by Universal Music.
Perez are Nic Olsen guitar and vocals, Matt Wilkinson guitar and vocals, Adam on bass and vocals, Mike Goddard drums and vocals.
Discography

Picture Perfect · 2002
Links
Images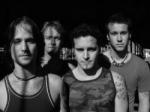 1 of 1 images More »
The Springbok Nude Girls 1994-2001