Misericord
2005 sees the return of Misericord to the stage after a year long hiatus, spent recording their first full length album. During this time, a new and dynamic vocalist, Jacques Olivier was added to the line-up. Completing the line-up are Victor d'O Filipe (drums), Nicholas Cook (bass), and two guitarists Ralf Globisch and Jason Giacoppo. After close to 8 years on the scene, the Cords have refined their sound and presence within the South African market. A unique blend of progressive hard rock and metal elements that has not only graced venues within their Johannesburg home, but also in most of the major centres in South Africa. Festivals such as Oppikoppi and Woodstock exposed even greater audiences to the band. They have been asked to support local underground noise merchants, Groinchurn, on their final SA tour. In 2003, the band went on a short 3 day tour (Johannesburg, Cape Town, Durban) supporting visiting Swedish heavyweights The Haunted. In the same year they were asked to open for Danish band Konkhra at their Jhb show. The band's track Another End was included in a compilation called New Breed and showed the Cords can hold their own against the best this country has to offer.
It seems that the next step is the world stage! Already the world has heard whisperings of the Cords. Their 2001 demo received favourable listenings from people in Europe and USA. In fact the demo was reviewed in leading international magazine Metal Maniacs. Local publications such as Blunt and even People magazine have also inked the Cords in their mags.
The full length album planned for an early release during 2005 will no doubt show that the bastard child has found its feet, and is walking toward you with intent!!
Discography
Links
Images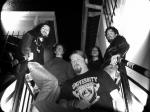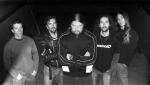 2 of 2 images More »
The Springbok Nude Girls 1994-2001