Karen Zoid
Born in Brussels as the daughter of a South African diplomat, Karen grew up in Belgium and Johannesburg where she became a teenage busker, honing her songwriting, guitar playing and singing skills on the streets of Melville.
In June 2001 EMI released Zoid's first solo album, Poles Apart, which fired the imagination of both critics and the public to such an extent that Karen Zoid became an icon of the South African youth, which the press renamed the Zoid Generation. In 2004 both Time Magazine and US News & World Report highlighted her role as an icon.
In June 2003 EMI released her second critically acclaimed album, Chasing the Sun.
Her work has subsequently been included on many albums of other artists as well as compilations and she receives daily fan mail from all over the world.
Touring the country and often headlining major festivals, she is supported by her accomplished band members Don Reinecke on lead guitar, Llewellyn John on bass and Etienne Oosthuysen on drums and percussion.
Discography

Chasing The Sun · 2003
Poles Apart · 2001
Links
Images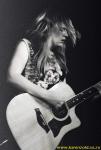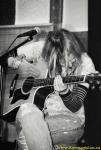 2 of 5 images More »
The Springbok Nude Girls 1994-2001