Judith
Not a solo female artist, but one of South Africa's young and talented four-piece rock bands that look set to establish their place in our ever expanding market. Having formed in August 2004 from the remnants of Southern Society and Siamese, Judith have been rehearsing and writing, and have on occasion played their material to unsuspecting yet lucky patrons in Gauteng. So far the response has been great, with their first single My Chair testing well on the airwaves country-wide.
Charismatic front-man Dale started out as the lead singer for Eastrand-based Southern Society. Tragically the band disintegrated before it had the opportunity get started after the loss of their lead guitar player in a car accident after their first show. It is an absolute mystery how Dale managed to hide himself from the industry for so long with the immense vocal talent he has for such a young man. The rest of Judith is made up of super-trio Colin, Darren and Brad who have been playing together for 4 years, and had huge success as Siamese with the singles Suffer This and Fear which was recorded for the South African version of Fear Factor.
Judith has been and is still busy writing and tracking material for the debut album. Their first single My Chair was given to Barney Simon as an exclusive to play on his Night Zoo show to test the market. The feedback so far has been great and My Chair has been sent out to all stations country-wide. Recorded at Classic Trax in Fourways, mixed by Brad and Gary, and mastered by Dean Brewer of MusicTech, My Chair is a small glimpse of what promises to be a very pleasing album. The band will be unleashing their unsophisticated brutal and smoldering rock on audiences first in Gauteng, and later on the rest of the country during the course of 2005. Recording of their album will take place in February 2005 and the album should be released before the middle of the year.
The union of Dale, Colin, Darren and Brad is truly inspiring and they can only be described as a well rounded quartet with a big drum sound, infectious guitar and bass riffs and powerful lyrics delivered by a gifted singer. Judith have a long road to travel and much hard work to do to imprint themselves on the South African and world markets, but the journey is more gratifying and can be compared to travelling a well tarred freeway when you are as talented and as focussed as they are.
Discography
Links
Images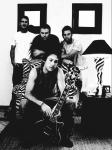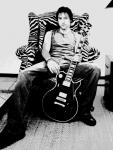 2 of 5 images More »
The Springbok Nude Girls 1994-2001